Every single car he's done for me and my friends have turned out great! since 2003 I have use Juvenal's window tint service, the convenience of his company is that I don't need to leave home and face traffic or waste my time in a shop, I recommend his company to everyone…do it!
Outstanding job looked everywhere in san diego for window tinting. No other company comes close. Great customers prompt service and skilled work that shows a strong sense of pride which is very rare in today's business world. I would recommend to family and friendly.
Great Service. I called and made the appointment for the next day he came by and took care of it. His service was the same quality as other shops, but at a much better price. Great Guy. Great Service.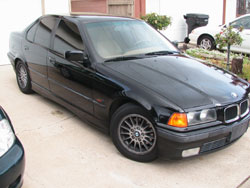 I had many cars tinted by many different shops. But by far MOBILE WINDOW TINTING is the best in southern california. Outstanding job, every time.
I was hesitant to have another window tint put onto a new car I had purchased after having received poor tints in past years. When I saw Juvenal's work, I knew that he was the man to go to. His prices were very reasonable considering the quality of work and I have continued to use and refer him since. Not once has my tint peeled, cracked, bubbled, or turned a nasty purple tone. I have personally had him perform 3 tints and each one came out perfectly. If quality is your primary concern, then he is the perfect window tinter. I've seen and purchased less expensive tints, but the aggravation of having to look at your car with tarnished window tints is terrible. The difference is well worth the price for me and many others that cherish their car. Don't you agree?
This was my first experience with Mobile Tinting, and it was quick and easy. They came out to where I work to do the window tinting for my car. They did exactly what I expected and everything turned out perfectly. I am very happy with their service and have no complaints.
Mobile Tinting was great. Their professional attitude was what made me decide to use them. They did window tinting and installed an alarm for me. Everything looks great. I appreciated that they did the job quickly…that was important to me.
Before I came to Mobile Window Tinting, I had tint on my car that I was not very happy with. After taking the old tint off and replacing it, my car looks incredible. What a difference a quality job makes! My thanks to Chuey and the entire crew there. I would absolutely recommend this company to anyone interested.
I applied for an appointment online and my request was promptly responded to. They provided fast, professional service at a very reasonable rate. I would definitely recommend.
I highly recommend San Diego Mobile Window Tinting. Juvenal himself has done 4 of my vehicles and I've been satisfied with the work he has done. He does a great job and his rates are very competative. Being mobile is a plus.
Great job on tinting both cars, but Juvenal needs to work on being on time:-)
Amazing Work… I needed my windows tinted and I was able to get my first choice for an appointment. He came to me, and I was still able to go on with my day of working at home. Also liked the life time warranty of the tint on the car it was done. Would recommend!
I just wanted to take a moment to say thank you for another outstanding tint-job on my new car. As with my last car, the windows look absolutely perfect. It was nice not to have to shop around this time since I knew from past experience that all aspects of your service would be top-notch. To anyone who is doing their research on mobile tinting, I say look no further. Juvenal and his staff of professionals are 1) accommodating in scheduling installation appointments, even on short notice, 2) extremely punctual, 3) pleasant and professional in demeanor, 4) experts in every aspect of their business (i.e. from appropriate product selection to installation techniques) and are happy to answer all of your questions, and 5) reasonably priced. I've used Juvenal twice and will use him again with my next car. Thanks again, Juvenal!
Juvenal installed the tint on my 2008 TSX very well. I was very impressed and would recommend him to friends. In fact I already have given his number to a friend of mine. If I ever purchase another vehicle I will have Juvenal tint my windows. Thanks Again and keep up the good work.
They did a great job and I didn't even have to leave work. They came here, did their work and I went home a happy campeR! Very nice people. You can't go wrong with these guys. HIGHLY RECOMMENDED!!
I found them online while doing a search for window tinting in the area and they were the only mobile window tinting company I found. I sent Juvenal an email and he responded very quickly and answered all of my questions and gave me a quote. The service was done the very next day at the exact time he said he would be at my house. I had three cars done all in a timely manner and all done at a very good price. The end product was perfect.
Juvenal was punctual, professional and did a great job tinting my windows. I had all my windows done and they came out perfect. He is a trustworthy person. I will definitely recommend him.
The service was great, and it was so quick. Everything happened while i was working and it was really the easiest most convenient service ever. I would recommend them to anyone who wants to save time and have their windows tinted while they work.
quality installation and friendly service, what more can you ask for and the windows look great!
They did a great tinting job for my Audi at a reasonable price. The convience of them coming to my house was the greatest influence in my decision.
Juvenal did a perfect job tinting my windows, he was on time finished before he said and the price was reasonable!
My original tinting on my car began bubbling and peeling to the point where I could barely see out my windows… I contacted Mobile Window Tinting and not only did they re-tint my windows, their prices were fantastic and the service was wonderful! Thank you Mobile Window Tinting!
Mobile Window Tinting is the best. Who wants to be stuck without a car all day while it gets tinted. These guys will come to your work or home and get the job done on the spot. I had a hectic day of work and no time to deal with the hassle of dropping off my car and finding a ride. These guys came and were done quickly and efficiently. It took just over an hour and that was it. It has been about 6 months now and my windows still look great. I would definitely recommend these guys to anyone.
I brought my 2005 honda S2000 to juvinal to have all my windows tinted. Juvy was recomended by some friends that has used his mobile service in the past. I was very impressed with the quality of service and the great customer service that followed his work. I am very impressed with the service and the fact I was able to roll my windows down the same day as I always roll with the top down. I highly recommend Juvy qaulity work and You wont be disapointed. Mobile window tinting has earned my bussiness for many years to come. Thanks Juvy
I bought a new 2010 Prius..I called them and they came out the next day and did a gorgeous job! I couldn't have asked for better or more knowledgeable service. I would highly recommend them to anyone. Great competitive prices and friendly service. Call them! You will be happy you did!!
I chose to go with Mobile Window Tinting because it sounded like it was quick, professional, and inexpensive. In my experience it was none of the above. They didn't have answers to many of my questions (did not know the tint level percentages of the film they had), offered very few options of tint, and charged more than the website quotes. In the end, however, I am happy with the way the tint looks.
It's been about 4 months since Juvenal did my tint. He showed up to my work and took his time perfecting everything! Was very professional and would definitely use him again in the future! My car looks great and the tint job is very well done!
I have now had two cars tinted by Juvenal, and I honestly will never have anyone else tint my cars besides him. Very competitive prices along with really quality work. If you need a mobile tint job in SD i would look no further.
Fastest tinting I have ever seen. Theese guys just moved to North park off University and Walbash. How perfect is that ,not only do they come to you if you want ,but there's a car wash across the street. How ever they also do detailing so you may not need the car wash just let Juvenal and his crew do it all.. Super friendly people here go,get tinted.. The pricing was fair as well…
Juvenal is the man! I've had him tint two of my cars to date, and he also tinted 3 of my co-workers cars. All came out looking great, and the work was done quickly at a competitive price. Highly recommended!
Juvenal Does an EXCELLENT tinting job! I have been a customer of his for a couple years now. Between Myself, My Husband, and My Mom, he has tinted at least 5 cars for us, and I recommend him to all my friends when they need a job done. He is very professional, and just an overall likable person. Prices are very reasonable! Highly recommended if you want a fast and excellent tint job done!
I just had Juvenal tint the windows on my new car after reading all of the great reviews about his business on Yelp. I am sooooooo pleased with the great job he did. Plus, the whole experience was very convenient. Juvenal came to my home one afternoon and did the work while I was inside my house cleaning. I definitely recommend Mobile Window Tinting to anyone who has a busy schedule and can't spend hours sitting at a shop.
I have had 2 cars done by Juvenal, I can say my 1st car I had done about 2 weeks after I bought in 01, owned that car until 07 when I bought my latest car. The tint never faded, peeled or bubbled as with the car I bought in 07 no problems at all. The tint is cut perfect and it appears to be factory tint. Juvenal was fast, professional and left the inside of my car in perfect order. I would recommend Mobile Window Tinting to anyone who wants the best tint job possible. PS my second car Juvenal came to my place of work and completed the job while I worked which was nice because he came to me.
Juve did a fantastic job on my Honda Element, I highly recommend his service. Doing the work at my home was so convenient. Professional, accurate and a super nice guy. Thank you!
Putting tint on my car is one of the most Important decisions I had made. Making sure the quality of the materials and the workmanship needs to be top class at a reasonable price. I shopped around and inquired with several on-site installers and shops. They have a slightly lower price, however for them to match the quality of work Juvenal offered me would cost me almost $100 over!!!! I was having second thoughts at first because I want to save a couple bucks but I know I wont be happy with the tint if get it done elsewhere. After Juvenal was done. looking at my car, I know it's worth every single penny! I will recommend his service to anyone! And I mean anyone. Thank you and more power!